Donate - Haiti
ServeHaiti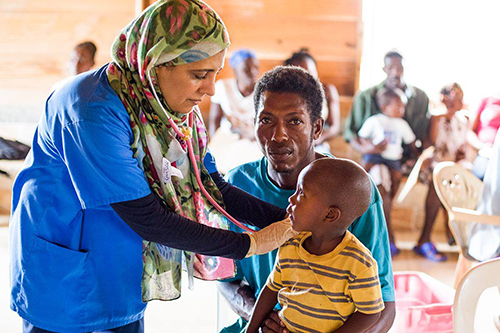 For over a decade, IMANA has consistently provided healthcare services to Haitians impacted by the catastrophic earthquakes and the Covid-19 pandemic. We initiated the ServeHaiti medical mission as an emergency response to the 2010 earthquake, and our volunteer physicians treated over 30,000 individuals with urgent medical needs.
After recognizing the emergent follow-up care that many earthquake survivors need, IMANA established a rural clinic in 2012 that actively runs with regular medical missions every year. As a result, Haiti has become one of IMANA's most extensive healthcare projects that address the needs of the poor rural communities.
With your support, we've been able to:
Send $1Million worth of medicines, medical supplies to those affected by the August 2021 earthquake.
Treat over 30,000 patients at a field hospital within the first three months following the 2010 calamity. In addition, we built the Haiti Out-Patient Establishment (HOPE) Clinic in the village of Miragoane in 2012, which provides free long-term healthcare services.
Send volunteer medical teams regularly to visit Haiti and provide free healthcare and medicines to hundreds of people on each trip. The total number of patients treated is 19,315. Apart from sending volunteer physicians, IMANA supports the clinic through local physicians as well.
Offer cataract surgeries: In 2013, IMR organized a SaveVision mission and established a small eye clinic where our volunteer ophthalmologists performed cataract surgeries and treated 160 patients.
Provide access to clean, fresh water: In 2014, IMR launched a clean drinking water project for the local people and established a well.
Provide well-balanced nutritious meals: A soup kitchen, established in 2016, feeds 25 children daily.
Have a question? Get in touch.
Locations:
Virginia: 9681 Main Street, Suite B, Fairfax, VA 22031
Phone:
630-932-0000
Fax:
630-932-0005
Email:
IMANA is a registered 501(c)(3) nonprofit organization. All donations to IMANA and IMANA Medical Relief are tax exempt. Tax ID: #36-4166125