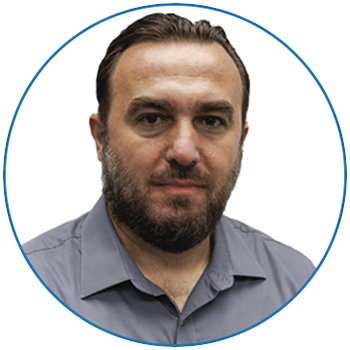 A native of Macedonia, Xhengis Aliu moved to the US in 2003, having worked for several years as a journalist, graphic designer and a photojournalist. Within a few years he founded his own design firm serving a wide range of clients in the academia, medicine, marketing, telecommunications, and culinary fields. He obtained a degree in Graphic Design from the Robert Morris University and served as Gallery Director at the State Street Gallery in Chicago for three years. Seizing new opportunities that were opening with the wider use of internet, he expanded his repertoire in the creative field to include web design, social media, digital advertising, and animation.
Xhengis successfully blends his artistic and analytical abilities as an award-winning graphic designer, photographer, videographer, and editor with over 25 years of accumulated experience. Versatile and creative, with his exceptional attention to detail and ability to take on challenging projects, Xhengis brings immense value with a focus on what works best for the project and the overall goals.
In addition to his duties as Creative Director for IMANA he also provides consulting and technical support for some of his long-time clients from the academia.
Across IMANA's programs we meet so many who could use your support. Please consider joining me in supporting one of the following causes:
1. Medical Relief/helping people
2. Climate Change
3. Scholarships